Women's Ministry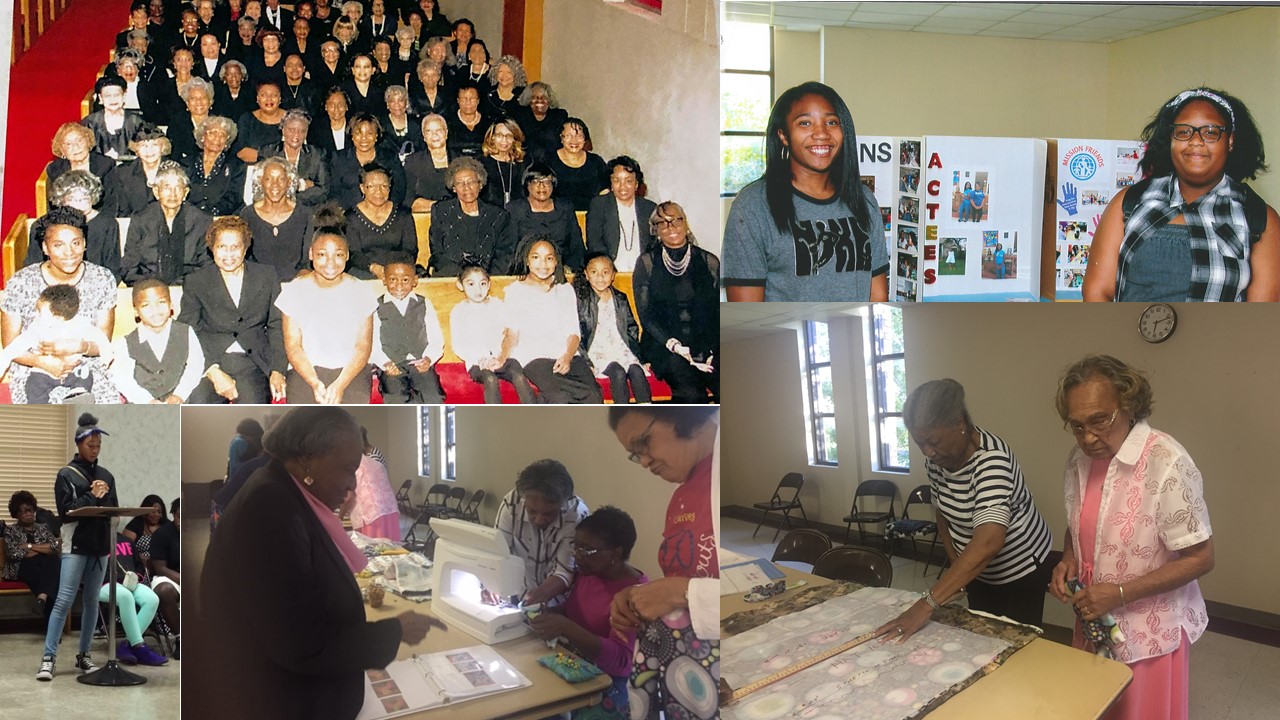 The Ebenezer Woman's Missionary Union WMU) is a primary focus of Women's Ministry in the church. It encourages and empowers women in the church to:
Pray for Missions

Learn about Missions

Develop spiritually toward a missions lifestyle

Support Missions

Do missions

Take part in the work of the church and the denomination.
Woman's Missionary Union (WMU)
Groups:
Mission I (Women on Mission)

Mission II (Women on Mission)

Baptist Young Women

Girls-in-Action (females in grades 1-6)

Acteens (females in grades 7-12)

Mission Friends (pre-school ages)
Organizational Leaders
WMU Director: Linda Ellison
WMU Assistant Director: Barbara Alexander
WMU General Missions Treasurer: Teresa Gratten
Coordinator Team Leadership Positions

Mission Support: Beatrice Williams, Coordinator
Mission Study: Eugenia Gaines, Coordinator; Marilyn Poole, Co-Coordinator
Mission Action: Open
Communication: Lenora Givens
Membership & Enlistment: Cynthia Mays
Auxiliary Circle Presidents

Circle 2: Ria Griffin
Circles 3 & 4: JoAnn McGrew
Circles 8,9,&11: Fannie Akingbala
Circle 12: Vacant
Eunice Circle: Alice Houston Johnson
Martha Circle: Beatrice Williams
Naomi Circle: Eugenia Gaines
Sarah Circle: Robbie Jones
BYW is a part of the Women's Missionary Union (WMU). This group's mission is to carry out the primary focus of WMU and to help young women right out of high school, collegiate, career and professional young women fulfill their mission as followers of Christ.
Organization Leader:
Open
Acteens (Females in Grades 7 – 12)
Mission:
• Give teenage girls opportunities to grow in their relationships with God and their peers.
• Acteens learn to independently become actively involved in missions and ministry.
Organizational Leader: Linda Ellison, Interim, Dr. Rashaanne Lewis, Co-Leader
Girls in Action (GA's) (Females in grades 1 – 6)
Mission: GA is an organization for girls in grades 1–6 that helps girls:
Learn a biblical worldview with an emphasis on missions learning and missional living.

Develop leadership skills to serve God and share His love with others.

Grow spiritually in their understanding of God and His mission, including how they are a part of God's plan
Organizational Leader: Carolyn Golden, Leader, Lenora Givens, Co-Leader